President Alan García spoke strongly and extensively yesterday against Francis Allison, his former minister of Housing, who with his wife were taken into custody in Miami for not declaring the amount of cash they were carrying as they were leaving the U.S. 
"I think it is outrageous that someone who has had the dignity of being a mayor several times, a militant of the PPC (party), and whom I called to be minister, is now committing this offense which is truly unpardonable," Garcia stated to the press.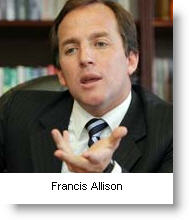 Allison, 39, and his wife, Claudia Robbiano, were carrying $50,000 in cash between them when they were boarding a flight from Miami to Panama and Peru, but had declared that they only had $20,000 in cash.  Allison told RPP Radio that the mistake was an innocent confusion and that he and his wife had passed the police polygraph test.  A relative has posted the $100,000 bail bond.
Under international laws to stem money laundering, travelers must declare if they are carrying more than $10,000 in cash, checks, bonds, etc.
The President's reaction has raised eyebrows among the opposition and a number of analysts who note that his criticism has been either lukewarm or non-existent in recent corruption cases involving members of his own party, including leading Apra members of congress and even the current minister of Justice, Aurelio Pastor, who have had business dealings with Alas Peruanas University, which is currently the defendant in more than 100 court cases and is suspected of bribing magistrates.
Francis Allison, three times mayor of Magdalena since 2000, was appointed minister of Housing and Construction in a cabinet shuffle in June this year, but by the end of September he was forced to resign because he received payments from Business Track, BTR. The company is allegedly involved in illegal wire tapping that is being investigated by Congress and the judiciary and which is connected to the petroleum concessions scandal, or Petrogate, that forced a major cabinet shuffle last year.