Residents from a district in northeast Peru's Loreto department have reported another oil spill in the Marañon river, according to the CNR news service.
A local leader, Mario Pua, said residents first reported oil in the river on Tuesday at about 4pm, but they understand that the spill occurred nine days earlier, on January 16.
"Today you can see stains of oil in the river. We have taken pictures to prove our claim to authorities," Pua said.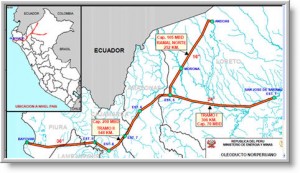 The regional director of Energy and Mines, Victor Montreuil, said that preliminary investigations indicate the leak was the result of cuts to the North-Peru oil pipeline caused by a third party. The stains were reported in San Jose de Parinari, east of San Jose de Saramuro at Station 1 of the pipeline, seen on the far right of the map.
"Not only the company [Pluspetrol] but also [energy and investment regulator] Osinergmin have pointed out that the cuts in the pipeline were caused by a third party that appears to be attempting some type of retribution against the company," Montreuil said.
"In any case, we have asked for a more in-depth investigation for details to find out who are responsible," he added.
The spill is at least the second in the Marañon in the past seven months. In June, an accident by a ship owned by Pluspetrol resulted in a spill that caused a high level of contamination in the river and was thought to have affected some 4,000 people living on its banks.