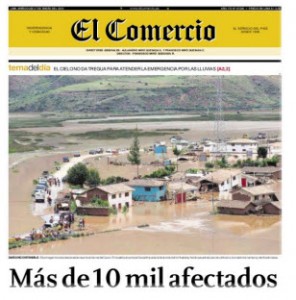 Minister of Foreign Trade and Tourism, Martín Pérez, said on Wednesday the elderly, children and pregnant women are the first ones being evacuated from Machu Picchu, after torrential rains and mudslides stranded tourists at Peru's sacred Inca citadel and top tourist attraction.
Pérez denied foreign tourists were given priority over Peruvian-born visitors, state news agency Andina reported.
"Yesterday we evacuated 475 tourists from Machu Picchu to Ollantaytambo, 103 of which are Peruvian nationals," said Pérez. "We are evacuating tourists according to their age, if they are ill, if they are pregnant and children with their mothers."
The Sacred Valley, the headway to Machu Picchu and the region's agricultural bread basket, has been devastated by floods that have swept away bridges and destroyed vast swaths of crops. More than 10,000 residents have been affected.
British-owned Perurail suspended services to Aguas Calientes – the town below the citadel – on Monday when the Vilcanota river flooded and blocked the railway stranding some 2,000 tourists. Peru's government sent police and army helicopters to evacuate the tourists. Pérez says 120 people can be evacuated per hour if weather conditions permit.
In a press release on Tuesday, Perurail said it rented a helicopter to help evacuate tourists from Machu Picchu and provided buses to transfer passengers from Ollantaytambo to Cusco city. The company said it had shipped 650 kilograms of relief supplies to the area and provided Internet and telephone access for the stranded tourists.
Some tourists have begun criticizing the governments evacuation plan. "Sometimes the mayor is in control, at others the military and once in a while the police," daily La República reported Uruguayan tourist Noelia Carranzo as saying. "We can't leave the station, they hardly give us anything to eat and there are many rumors about irregularities."
La República quoted an unnamed Chilean tourist at Machu Picchu who said by Twitter that, "no one is giving us official information. The food is running out. They say that helicopters are evacuating the elderly, but we don't know if that is true. They've increased the prices for everything. Please, Help!"
Peru's government announced a 60-day state of emergency in the Cusco department due to the strong rains. The national meteorology institute, Senahmi, says the rainfall is the heaviest in the region in 15 years. Ten thousand people have reportedly been affected and 2,000 homes have collapsed. Presidential Cabinet Chief Javier Velásquez said Tuesday 20 tonnes of relief aid has been sent to zones affected by the rains.