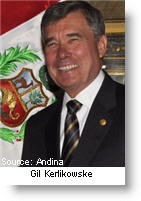 The head of the United States Office of National Drug Control Policy, Gil Kerlikowske, says that Peru's growing cocaine production is a serious concern but  that President Ollanta Humala has made a commitment to reducing the supply.
In an interview with Peruvian newspaper El Comercio, Kerlikowske would not say whether the United States would increase funding to Peru for anti-drug efforts.
"I can't respond to whether the United States government will or will not provide more funds to Peru for its anti-drug fight, but what I can note is that there is a financial crisis in the U.S., while Peru is experiencing good moments in its economy," Kerlikowske said.
Officials in Peru's previous administration, led by then President Alan Garcia, had been critical that Colombia had received billions of dollars in U.S. funding for its anti-drug strategy – known as Plan Colombia – while Peru received far less.
Colombia, which has long been the world's top cocaine producer, has seen a steady decrease in illicit drug production over the past few years. In contrast, Peru has seen cocaine production rising, leading the U.S. government to say last year that it now believes Peru has overtaken Colombia as the world's biggest cocaine producer.
Anti-drug authorities say that most of the cocaine produced in Colombia goes to the United States, while Peruvian cocaine is shipped to Europe and emerging markets, including those in South America's southern cone, Asia, and Africa.
"While Peruvian cocaine isn't currently entering the U.S. in large amounts, this could change and this drug would start arriving in one, two or three years," said Kerlikowske, who was in Lima for the international drug summit hosted by Peru's government.
The U.S. drug czar said that there needs to be greater coordination between countries, including finance ministries and banking sectors in order to detect the laundering of profits from the lucrative illicit drug trade.