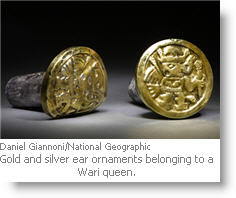 A team of archaeologists kept a discovery of a 1,200-year-old tomb from the Wari civilization secret for months until now, working quietly amid concerns that grave robbers would destroy the site in search of gold and silver artifacts.
The discovery on the coast north of Lima at Huarmey, and led by Polish archaeologist Milosz Giersz of the University of Warsaw,was announced Thursday in an article by National Geographic and later confirmed by Peru's Culture Ministry.
The discovery of the "temple of the dead" included the bodies of three Wari queens and 60 other individuals, that could have been human sacrifices, National Geographic reported. The tomb also included gold and silver jewelry, bronze axes and gold tools.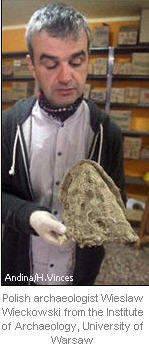 Giersz told National Geographic that he "had a nightmare about the possibility" of looters finding the site, so he and co-director Roberto Pimentel Nita kept it secret.  Many desolate areas of the coast have been massively dug up by grave robbers who, working independently or on requests from antiquities smugglers, destroy all historical clues in their search for intact pottery and textiles, as well as gold. 
The Wari empire spanned much of modern Peru during the 8th and 9th Centuries A.D. Experts say that its capital, Huari, had a population of some 40,000 people, which would have been a major global urban center at the time.
Much is still not known about the Wari, which like other pre-Hispanic civilizations, is overshadowed in Peru by the Incas. Archaeologist Krzysztof Makowski, working with Peru's Catholic University was reported saying the discovery of the Wari tomb "is like a pantheon, like a mausoleum of all the Wari nobility in the region."
Correction: The archaeologist in the photograph was incorrectly identified, on initial publication, as Milosz Giersz.