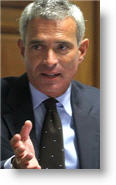 Peru's biggest business organization said that measures announced by President Ollanta Humala last week, to facilitate private-sector investment in order to support economic growth, are positive.
"It is a sign of confidence. We welcome that and we recognize it," Alfonso Garcia-Miro, president of business association Confiep, told RPP radio.
"What is important is to recognize the confidence that the government is giving to businesses and to the community in general," he added.
Late Friday, Humala announced a package of seven measures that the government says will facilitate investment. The announcement came amid growing concern about the health of Peru's economy and its ability to maintain strong growth as metal prices decline.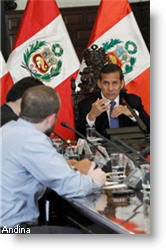 In the first quarter, Peru grew 4.8 percent, which was the slowest quarterly growth rate since 2009. Peru also posted a trade deficit in the first three months of this year, the first quarterly deficit since 2008, on the sharp decline in exports of copper, gold and other commodities.
Among the measures to boost investments is a plan to streamline the processing for environmental impact studies, a key permit, and pushing through legislation to reform Peru's capital markets in order to make it easier for small and medium sized companies to raise financing. Humala also said that a special committee will be set up in order to follow and facilitate the development process of Peru's biggest investment projects.
While the sluggish global economy is hurting Peru's economy, several domestic issues have also affected investments plans, including social conflicts and initial plans that the government was aiming to increase the state's presence in the hydrocarbons sector. The plans to buy assets owned by Spanish oil major Repsol were abandoned after an outcry from Peru's private-sector and opposition politicians.