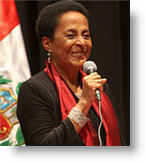 Culture Minister Susana Baca said Tuesday that she has suspended her upcoming concerts, amid criticism that her music career and traveling was affecting her cabinet work.
On Monday, Cabinet Chief Salomon Lerner Ghitis said that Baca's appointment to the ministry would be re-evaluated if she was unable to fully commit her time, daily El Comercio reported.
Baca had accepted President Humala's invitation to join the cabinet on the proviso that she could wrap up a series of international concerts already scheduled for this year.  Shortly after she was sworn in, she was in Colombia and then in New York, with a review in the New York Times, and still had more concerts scheduled before the end of the year.  The Culture Commission in Congress, however, began to demand that she resign if she could not appear at their hearings to present her ministry's development plan.
Baca said Tuesday that she "doesn't want to stop being a minister."
"It is a great honor and opportunity to work for my country," Baca was cited as saying.
"I'm happy because only a few months earlier no one was talking about the Culture Ministry and this issue has become of great importance," she added.
Baca, 67, was born in Lima's Chorrillos district and is a winner of the Latin Grammy Award for Best Folk Album, for her Lamento Negro disc. She has been internationally recognized at the forefront of the revival of Afro-Peruvian music, as well as a director and supporter of nonprofit cultural organizations.
Baca was appointed Culture Minister in July ahead of President Ollanta Humala's inauguration.