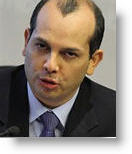 Economy and Finance Minister Luis Miguel Castilla said that private sector investments in Peru should increase by about 10 percent this year, daily El Comercio reported.
"Our expectation is that [private investments] will grow a minimum of 10 percent this year," said Castilla, who is leading a road show to promote Peru in the Middle East and Europe this week.
Castilla said that the rise in private investment will help offset the economic impact of weak exports, which have been hurt by falling mineral prices.
However, Castilla also added that in order to reach the forecast of 10 percent growth in investments, it is important for business confidence in Peru, which has fallen in recent months, to show a recovery.
President Ollanta Humala announced last week a package of measures aimed at facilitating investments and boosting business confidence. Some of the measures include speeding up the permits processes for natural resource projects.