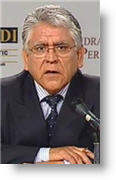 Felix Jimenez, President Ollanta Humala's former top economic adviser, criticized the current administration for serving the country's economic power groups, according to an interview on Ideeleradio.
Jimenez said that those who garnered the presidential votes nationwide last year are no longer the policy makers and, instead, those who lost the elections and who harshly criticized the Humala platform are the ones who are now governing.
Principal economics professor at the Catolica university and a former professor at the City University of New York and in Mexico, Jimenez was the architect of Humala's original government plan. Humala won the first round of the election on that plan, although he failed to get enough votes to avoid a second-round vote.
During the second round, Humala was heavily criticized for his original governing plan, which critics said was too far to the left and extremist.
Humala moderated his stance leading up to the second round vote and as a result was able to defeat competitor Keiko Fujimori. When he took office on July 28, Humala appointed well-respected moderates to key economic posts, including Julio Velarde as the Central Bank president and Luis Miguel Castilla as the head of the Finance Ministry.
Velarde was the central bank president during President Alan Garcia's administration, while Castilla was the deputy finance minister during the same administration.
A number of Humala's advisers and allies began to distance themselves and left their government posts late last year, when Humala made a large cabinet shift.  Jimenez resigned in January this year.
These advisers, who have supported Humala over the past several years, have now formed a new group called Ciudadanos por el Cambio, or Citizens for Change.
Along with Jimenez, the group also includes former Premier Salomon Lerner Ghitis, former drug chief Ricardo Soberon, former environment minister Ricardo Giesecke, and former cabinet adviser Carlos Tapia, among others.
"What we have seen over the past several months, since July 28, is that those who were policy makers in the previous administration are now in the government," Jimenez said. "Those who, we could say, served the groups with economic power that criticized our proposal for the Great Transformation are the ones now governing."