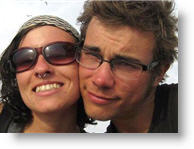 A young American couple from California, whose family members feared had been kidnapped while vacationing in Peru, grabbing international attention, has turned up safe in the country's northwest Amazon region, according to Peruvian government officials.
The Ministry of Foreign Trade and Tourism said in a statement on Tuesday that Garrett Hand and Jamie Neal, both in their mid-twenties, have been on a river boat heading to Ecuador. They were spotted by a police officer at the port town of Angoteros, according to the statement.
"The tourists were surprised by the concern from their families, friends and the international community," the ministry said. The statement said the American tourists are "continuing to enjoy their trip in the Peruvian Amazon."
According to police reports. the couple had last been seen on January 26 at a bus station in Lima following a bus trip from the Cusco region. Family members had said they had been communicating regularly, but that all correspondence, social media activity and financial transactions had stopped after January 24.
The couple had left the Bay Area in California in November for a biking trip through South America.
Family members had set up a page on Facebook, to raise awareness of the case and their concerns that the couple had been kidnapped. The case got international media attention, especially as the U.S. embassy in Lima issued a warning recently of a kidnapping threat against U.S. tourists in the Cusco region.
The family said on its Facebook page that it was still waiting for "proof" that the couple was okay.
"Let me reiterate, until we have PROOF OF LIFE, we cannot celebrate these rumors and sightings," said Francine Fitzgerald, the mother of Garrett. "Proof of life is my son's voice on the phone and a picture of him holding the missing poster."