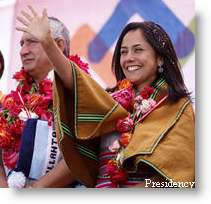 Peruvian President Ollanta Humala on Thursday said that his wife, First Lady Nadine Heredia, is well-prepared to govern the Andean country.
Speaking in an interview with CNN, Humala stressed that Heredia is not campaigning for 2016. Indeed, Heredia has said that she will not run for office in 2016, when Humala is constitutionally barred from seeking a second consecutive term.  A law also prohibits a President's immediate relatives to run for the presidency immediately after his term.
"In Peru you get used to politicians only having contact with the people during campaigns. However, since Nadine has contact with the people, critics say she is on the campaign trail, which isn't so," Humala was reported saying.
He added that, "Nadine is very well prepared. We have  a brilliant political team in Peru and, in this case, in the Nationalist Party," Humala said.
Daniel Abugattas, former president of Congress in the ruling party, has said that Heredia is the ideal candidate for 2021.
Humala and Heredia formed the Nationalist Party prior to Humala's unsuccessful run for president in 2006. Heredia remains a close adviser to the President since then, and was central to his victory in the 2011 presidential campaign.  A communications sciences graduate with a master's degree in sociology and studies at the Sorbonne in Paris, Heredia is charismatic and easily approachable.
To her critics, who accuse her of co-governing and having too strong an influence on Executive policies, Heredia says, "Ollanta and I are a team. We always have been."
Currently, as First Lady, Heredia is Peru's representative on the U.S. Equal Futures Partnership initiative to empower women, and is the FAO special ambassador for the International Year of the Quinoa together with Bolivia's President Evo Morales.   She is also plays a leading role in Peru's participation in the UN's Scaling Up Nutrition program.