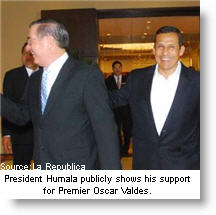 President Ollanta Humala has reiterated his support for his cabinet chief, Oscar Valdes, as he rejected rumors that he could make changes to his cabinet anytime soon, newspaper Peru.21 reported.
"He has my support," said Humala, during a lunch with Valdes at the Sheraton Hotel in downtown Lima.
Peru.21 says that Humala told Valdes that he is not planning changes to his cabinet at least until July, and that he will coordinate any changes with him.  Traditionally, the President announces any cabinet changes at the time of his address to the nation in Congress on July 28.
Valdes took on the post last December, following a major cabinet shuffle when Humala sought more cohesion in his cabinet and believed a harder hand was needed in the negotiations over Minas Conga in Cajamarca. Valdes was Humala's Interior Minister at the time, when the cabinet was led by Salomon Lerner Ghitis.
Political analysts have been criticizing Valdes for the poor military/police results in the VRAE hostage situation and for the Minas Conga situation, in which the regional opposition to the mining project has become even more deeply entrenched.