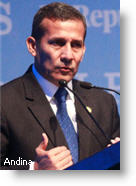 President Ollanta Humala on Thursday said there is a "national consensus" on Peru's free-market economic policies.
In a investment conference organized by Spanish newspaper El Pais and Peruvian daily La Republica called Invest in Peru, Humala said there is a broad agreement about Peru's economic policies.
"Discussions today could be political, but I think the economic path that Peru has taken is one in which there is a national consensus," Humala said. "Today, we are one of the top recipients of foreign investment in Latin America."
Humala's comments on the economy are the latest attempts to boost business confidence inPeru, as the economy has slowed in recent months. It also follows concerns from the private sector that Humala could change economic policies, especially if Economy and Finance Minister Luis Miguel Castilla leaves the cabinet.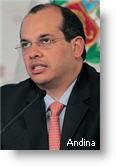 There has been widespread speculation that Castilla could resign in the coming weeks, despite denials from the government. Some analysts believe that Castilla's departure from the government could be a signal that the government would not continue with free-market economic policies that have been implemented in Peru during the past decade.
The Eurasia Group, however, does not agree. It said this week that it would not expect a change in economic policies if Castilla left.
"It is unlikely that Castilla's departure would prompt a shift in the direction of macroeconomic policy, since the first couple has little incentive to abandon the current framework," the Eurasia Group said.
"Humala is also clearly sensitive to swings in investor sentiment, so if Castilla leaves the cabinet, he would likely be replaced by another orthodox economist who is viewed as investor-friendly," it added.