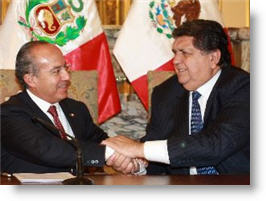 Mexican President Felipe Calderon arrived in Lima on Wednesday for the start of a state visit aimed at increasing ties with Peru, daily El Comercio reported.
Calderon met with his Peruvian counterpart, President Alan Garcia, to sign a double taxation treaty and other bilateral agreements, the report said.
Calderon's visit to Peru, the Mexican President's first, also includes meetings with members of Congress, Lima mayor Susana Villaran, and the head of the judicial branch, Cesar San Martin.  He also met both presidential candidates, Keiko Fujimori and Ollanta Humala.
On Thursday, Calderon is taking part in a ceremony with Chilean President Sebastian Piñera, Colombian President Juan Manuel Santos and Peru's Garcia in order to sign the Pacific Accord.
"This alliance of countries with Pacific coasts will serve to increase their ties, but also with Pacific Asian nations that have strong economies and interesting markets," the Mexican ambassador to Peru, Manuel Rodriguez, said.