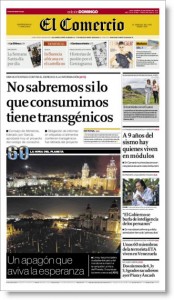 Residents in Peru's capital Lima switched off their lights Saturday evening joining thousands of cities and millions of people around the globe who took part in the World Wildlife Fund's Earth Hour 2010.
Earth Hour took place from 8:30 p.m. to 9:30 p.m. local time in 125 counties to make a statement against climate change, Radio Programs Peru reported organizers as saying.
In downtown Lima, the Plaza de Armas and surrounding buildings – the Government Palace and Basilica Cathedral of Lima – went dark for an hour, while various parks and buildings in Lima's popular tourist district Miraflores also switched off their lights.
Peru's other major cities, including Cuzco, Trujillo and Arequipa, also took part in the event.
In Latin America, lights went out in major cities and important icons from the avenue bordering the Copacabana beach in Rio de Janeiro, Brazil to 175 historical archeological sites, including the Mayan monument Chichen Itza, in Mexico.
Earth Hour began in Sydney in 2007, when 2.2 million homes and businesses switched off their lights for one hour. In 2008 the message had grown into a global sustainability movement, with 50 million people switching off their lights. Last year's Earth Hour was the largest, with more than 4,000 cities in 88 countries officially switched off.
Global landmarks such as the Golden Gate Bridge in San Francisco, Rome's Colosseum, the Sydney Opera House and the Coca Cola billboard in Times Square all stood in darkness.