Cabinet Chief Javier Velásquez said Peru's executive will examine a proposal to commute the sentence of recently paroled US citizen Lori Berenson so the New York native can leave Peru, state news agency Andina reported.
"Justice Minister [Víctor García Toma] is creating a proposal that he will take to a cabinet meeting," said Velásquez. "Obviously we will… do what is advisable for the country."
"The idea to commute [her sentence] is with the intention that she leaves the country, it wouldn't make any sense to commute if she stays," Velásquez said.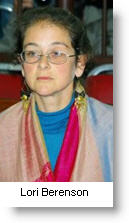 Berenson, 40, was freed on May 25 by a Peruvian judge after spending 15 years of a 20-year sentence behind bars for collaborating with leftist Tupac Amaru Revolutionary Movement (MRTA) guerrillas during the 1990s.
The MRTA, inactive since the late 1990s, was a Cuban-inspired guerrilla group that waged a campaign of assassinations, kidnappings and bombings, but was dwarfed in the shadow of the far more violent and deadly Maoist Shining Path. According to Peru's Truth and Reconciliation Commission, the MRTA was responsible for less than 2 percent of the estimated 70,000 deaths caused by political violence between 1980 and 2000.
Berenson has maintained her innocence, arguing that she was a political prisoner.
Berenson's release was based on a legislative decree that was passed in 2003 during the administration of former President Alejandro Toledo. The decree allows inmates who were charged with terrorism to gain conditional parole when they have completed three-quarters of their sentence.