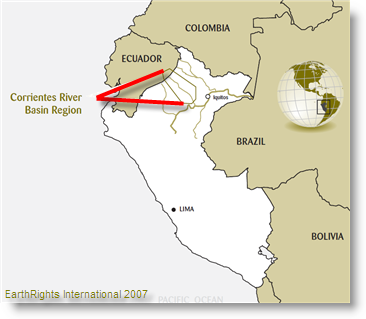 Pluspetrol, the Argentine oil and gas company, is to appeal a multi-millionar dollar fine that the Peruvian government has slapped on it for polluting the northern Amazon rainforest.
Environmental regulator OEFA, which is part of the Environment Ministry, fined Pluspetrol more than 20 million soles ($7.15 million) for contamination and the disappearance of a lake in the region of Loreto, according to daily Peru.21.
OEFA said the disappearance of the small Shanshococha lake, (3,000 square meters), is an "irreparable loss." The lake was located in the Block 1AB concession being developed by the company in the remote Andoas province in northern Loreto.   According to the sanction,  Pluspetrol affected the lake with hydrocarbon liquids, caused unrecoverable ecological losses, and the removal of soil without an environmental management permit. It also said that the company failed to inform OEFA about the damage to the lake.
Pluspetrol, however, points to the pollution and damage to the lake being caused years earlier by the previous operators and that they have been cleaning up the lake area. They began a clean-up program in October 2012 as a result of demands by the Nuevo Andoas native community, which has been supervising the restoration work. Pluspetrol also says that OEFA stopped them from completing their reforestation of the lakeshore.
The Corrientes Basin has been seriously damaged by oil production and Pluspetrol was criticized earlier this year by the Environment Ministry for its practices.
The Andoas area and the Corrientes river region were developed by Occidental Petroleum Corporation (Oxy) for 30 years, and sold to Pluspetrol in 2000.  The Argentine company, according to a 2007 environmental report by EarthRights International, continued to use the same installations and the same practices as Oxy.