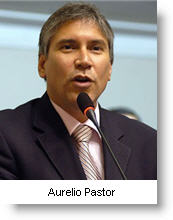 Peru's anti-corruption prosecutors have opened an investigation against former Justice Minister Aurelio Pastor over alleged influence peddling, daily El Comercio reported.
Pastor, a well-known lawyer that served as a cabinet member during President Alan Garcia's second administration, was recorded telling a mayor that he could help her with a recall election if she paid him 50,000 soles ($19,300).
The conversation between Pastor and Corina de la Cruz, the mayor of Tocache in San Martin region, was broadcast by Sunday night news program Cuarto Poder.
De la Cruz went to Pastor to see if he could advise her over a recall election and her suspension from her post by the National Elections Board, or JNE.
Pastor said that he had "friends" in the election authority and that for 50,000 soles he could resolve the issues.
"I've laid out the number [50,000 soles]. You will pay me when you return as mayor," he said. "I'm going to wait and I'm going to help you resolve the problem so you can return…. I have great relationships on the board."
De la Cruz said the former minister is interested in a 45 million-sol water works contract in her region.
During a radio interview on Monday, Pastor denied any wrongdoing and said he would file charges against De la Cruz. He said he wasn't aware that he was being recorded.
The Aprista party's political committee, however, has suspended his membership during the investigations.