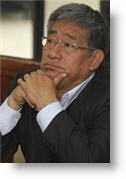 Peruvian prosecutors have ordered the detention of a former high-ranking official who headed the presidential pardons commission during President Alan Garcia's administration (2006-2011).
Miguel Facundo Chinguel, considered a flight risk, was detained this week on a court order of a nine month "preventive imprisonment", while investigations continue, and after revelations by an informant directly link Chinguel to a growing scandal that is undermining Garcia's presidential hopes for 2016.
The scandal involves allegations that government officials accepted bribes from inmates in order to provide a pardon. The scandal, known as the "narco-pardons,"  emerged in April when a Congressional commission investigating possible corruption found that the pardon granted to some 5,500 prisoners during Garcia's second administration —in an attempt to reduce the notorious overcrowding of Peru's prisons— in fact included hundreds of drug traffickers.
"There was a criminal organization within the presidential pardons commission," said anti-corruption prosecutor Walter Delgado. "Miguel Facundo Chinguel led that criminal organization in his role as president, to send favorable reports."
On Wednesday, new revelations about the scandal emerged. Peru's largest circulation daily, El Comercio, reported the findings of an investigation by prosecutors in a front page story, confirming the plan to reduce the prison population.  
However, prosecutors also found that the commission reduced prison sentences and granted pardons in exchange for a payment of $10,000 per year of a sentence reduced. From 2008 to 2010, 14 drug lords from international gangs had their prison sentences reduced in exchange for total payments of $240,000, according to a 76-page investigation cited by El Comercio.
The investigation reports that reduced sentences and even pardons were granted to several drug traffic leaders, and foreign traffickers. These included a Nigerian who paid $70,000, an Israeli and a Pole who each paid $50,000, and others who paid between $30,000 and $60,000. The information was obtained in testimonies given by some of the prisoners themselves.
Prominent members of Garcia's Apra party, and the former president himself, are now coming under heat from prosecutors. Earlier this week, the attorney general's office said it was expanding its investigation to include Aurelio Pastor, a former Justice Minister during Garcia's administration, who has been accused of corruption in other, separate cases.
In addition to Pastor, Garcia's former Production minister and secretary general to the presidency as well as high-ranking Apra member, Luis Nava, has come under suspicion of being involved in the narco-pardons. He admitted to meeting with Facundo Chinguel, but said he didn't discuss the pardons.
Peru's Attorney General said this week that the investigation could expand to include Garcia. "We can't confirm or rule it out yet," said Jose Pelaez. "We are going to see what we obtain from the investigations."
The scandal could have broad repercussions for Garcia and Peru's 2016 presidential campaign. Garcia has already expressed his interest in running for a third term in office, and would likely be a strong contender.  However, and although Garcia has never previously been proven to be directly linked to corruption charges in his administration,  the presidential pardons did land on his desk for signature.
According to the prosecutor's investigation, Facundo Chinguel visited Garcia, Nava and another high-ranking official 25 times while he was the head of the pardon's commission.