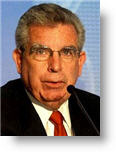 Illegal mining in Peru is generating more than $1 billion a year, with about three-quarters of the sum coming from gold production, according to the National Mining, Oil and Energy Society, SNMPE.
Illegal miners also produce copper and silver, SNMPE's ex-president, Jose Miguel Morales, said, according to state news agency Andina. 
Morales said that the SNMPE supports government measures to curtail illicit mining, which has caused heavy social and environmental problems in 13 regions, including Madre de Dios, Piura, La Libertad, Puno, Ica, Ancash, Cusco, Apurimac, Lima and Arequipa.
"The Peruvian state isn't confronting a subsistence mining but rather illicit organizations that finance illegal mining activities that just leave behind destruction of forests and contamination of rivers," Morales said.   Because they are not registered in any legal system, the miners also do not pay taxes.
SNMPE, which is holding an international forum this week on illegal mining, estimates that in Peru more than 100,000 people are involved in the activity.
Peru's government has been looking at ways to tackle informal mining and has set up a five-year national plan, which includes not only an attempt to incorporate informal miners into the tax system but a widespread environmental plan to mitigate the pollution and deforestation damage and contain the illegal industry within mining corridors.
The director of planning and budgets at the government's mining and geological institute Ingemmet, Henry Luna, said that the plan will require an investment of 35 million soles ($13 million).
Luna said that illegal mining is rising in various parts of the country due to strong metal prices, particularly gold.   
"The numbers are increasing in regions such as Piura and Madre de Dios. In (Madre de Dios), people mainly from Cusco and Puno are arriving to look for work," Luna said.
Illegal or informal gold mining in the Madre de Dios Area, for example, began to increase in the 1970s and '80s, when the price of gold rose to almost $600 a troy oz and then dropped to settle around $400/oz for a decade. 
 Today the price of gold is around $1750 per ounce.  In the Madre de Dios region alone, more than 30,000 people are believed to be working the river deposits.