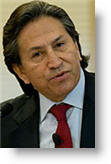 Former Peruvian President Alejandro Toledo answered questions from lawmakers on Monday, and again denied any wrongdoing in the purchase of pricey real-estate in Lima by his mother-in-law.
Toledo, who governed from 2001 to 2006, has come under fire since it was revealed that his mother-in-law, Belgian national Eva Fernenburg, bought an office and a house in Lima for about $5 million. 
The purchase of the properties was made through two offshore companies, one located in Costa Rica that the mother-in-law reportedly set up last year, and another in Panama, which has connections to a Peruvian-Israeli executive with close ties to Toledo. 
The insinuations made by Toledo's political opponents is that Toledo has used his mother-in-law to channel possible illicit gains made during his presidential term.
Last week, Peru's Attorney General's office said that it was opening a preliminary investigation into allegations of illicit enrichment.
Toledo returned to Peru last week from the United States, where he is a professor at Stanford, in order to address the issue. He gave an uncomfortable television interview Thursday, which left many questions unanswered.
Toledo was originally planning to leave Peru on Saturday but he decided to stay in order to meet with lawmakers from the Congressional investigation committee. At the meeting, which was covered closely by the press, he reiterated that he did nothing wrong.
"Show me evidence that Alejandro Toledo participated in the purchase of these two properties," the former president said, referring to himself in the third-person.
Opposition lawmakers, including Mauricio Mulder of the Apra party, called the meeting "a joke."
Mulder was upset that Toledo took legal documents with him that he said would prove the legality of the real-estate purchase, rather than leaving a copy with the committee.