U.S. Secretary of State Hillary Clinton is to attend the 40th general assembly of the Organization for American States, to be held in Lima June 6-8, the U.S. State Department announced Friday during a daily press briefing.
The State Department said Clinton will also travel to Ecuador, Colombia and Barbados, where she will meet with Caribbean leaders.
Peru's Foreign Affairs Minister, José Antonio García Belaunde, told state news agency Andina that Clinton's visit to Lima demonstrates U.S. support for the OAS and Peru.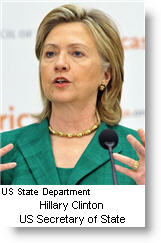 "Clinton's visit ensures the backing of the United States for the OAS, the inter-American forum for dialogue on the interests of the countries that are there and also the support for the agenda proposed by Peru, regarding security and peace," García Belaunde said.
"One of the most important topics of this forum has to be the strengthening of democracy. As well, there are also the topics of security and peace in the region, which are part of President Alan García's proposal on Peace, Security and Cooperation."
Clinton's visit to Peru, Colombia and Ecuador comes approximately two months after the Assistant Secretary of State for Western Hemispheric Affairs, Arturo Valenzuela, visited the same countries.