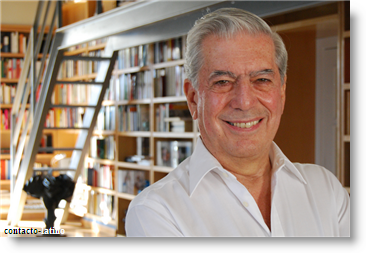 Peru's Nobel Prize winning author Mario Vargas Llosa waded into the Andean country's upcoming elections as he turned 80 on Monday.
Vargas Llosa, who won the Nobel Prize for Literature in 2010, said that there is "uncertainty" in the current presidential campaign due to the months-long lead that Keiko Fujimori has over her nearest election rival.
Fujimori is the daughter of jailed former president Alberto Fujimori, who Vargas Llosa ran against and lost to in the 1990 presidential elections. The senior Fujimori went on to rule for a decade overseeing widespread corruption and human rights abuses, despite also defeating the Shining Path insurgency and passing policies that helped the economy recover.
Vargas Llosa said a Fujimori victory would be "troubling," as it would legitimize the abuses committed during her father's administration, according to newspaper Gestion.
An Ipsos poll on Monday showed that Fujimori had 32.1 percent support, compared to the next closest candidate, former finance minister Pedro Pablo Kuczynski, with 16 percent support. Other candidates include Veronika Mendoza, a leftist, Alfredo Barnechea, a former Inter-American Development Bank official, and former president Alan Garcia.
Vargas Llosa said he was optimistic that the second place candidate will defeat Fujimori in a run-off. The run-off is expected because Fujimori is unlikely to get the more than 50 percent support needed to win outright in the first vote.
Despite having a strong base of support at around 30 percent, Fujimori has high disapproval rating due to her father's legacy and her party's failure to distance itself from that past. The Ipsos poll showed that Kuczynski would defeat Fujimori in a second round vote, with 42 percent versus 38 percent support, respectively.
Vargas Llosa is a strong supporter of Kuczynski, a 77-year-old economist who has decades of experience in government and the private sector. "He's a magnificent candidate," Vargas Llosa said of Kuczynski. "He could win the election and that would guarantee over the next five years that the same line of development and progress that we've fortunately had since 2000 will continue."
In the 2011 presidential campaign, Vargas Llosa compared the second round vote between President Ollanta Humala, who had close ties to Venezuela's Hugo Chavez, and Fujimori as a choice between "cancer and AIDS."
Vargas Llosa later endorsed Humala, who has governed from the center over the last five years, maintaining Peru's market-friendly policies that have helped support robust economic growth and reduce poverty during the last 15 years.