A team of 500 archaeologists and workers has restored 2.5 kilometers of 12 meter-high walls in the city of Chan Chan – America's largest pre-Hispanic mud-brick settlement – after rains in Peru's normally arid northern coast caused ancient walls to crack and frieze murals to break off.
The walls, restored after many months of painstaking work, protect three of the ancient city's most important rectangular enclosures, or citadels.
Chan Chan, a 28-square-mile triangular city divided into nine walled citadels, each constructed out of mud-covered adobe brick, and each containing temples, storerooms, burial grounds and gardens, was the capital of Peru's ancient Chimu Empire, which reached its apogee in the 15th century, before the establishment of the Inca Empire.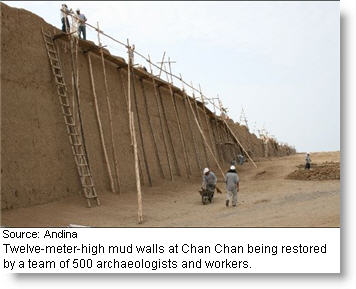 The average enclosed area of a citadel is equal to the approximate area of 26 football fields, and each is surrounded by very high walls.
The purpose of the unusually high adobe walls has intrigued explorers and archaeologists for years.
A recent wind tunnel experiment study, , conducted by Dr. Steve Gorin of Tulane University, Louisiana, suggests the high walls are an architectural solution to control dust and sand and to reduce the effects of high winds.
The high walls also allowed the inhabitants of Chan Chan to insulate themselves against hot daytime temperatures, then releasing the collected heat at night, to protect them from lower temperatures.
Additional restoration is planned, said Cristóbal Campana, a site spokesperson.
Though plastic tarps are placed over some of the monuments and walls when needed, rain causes ancient walls to crack and breaks off frieze murals.
Last week, local authorities in La Libertad declared a state of emergency at Chan Chan.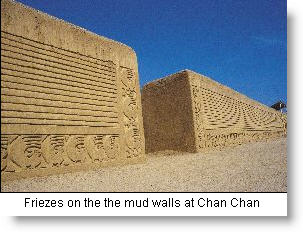 "Chan Chan is vulnerable," said Campana, "and is in imminent danger. It is necessary that a state of emergency be declared so that more funds be allocated, allowing us to design and implement more preventive measures."
Because the site requires continuous protection from natural erosion, Chan Chan was inscribed on the World Heritage List in 1986. UNESCO described it as "an absolute masterpiece in terms of town planning," and "a unique testimony to the ancient Chimu Kingdom."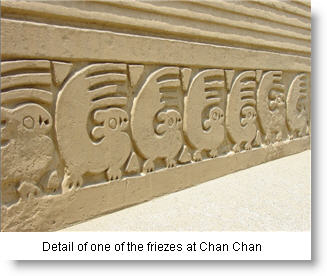 However, the same year the site was also added to UNESCO's List of World Heritage in Danger due to its exposure to natural erosion from wind and rain.