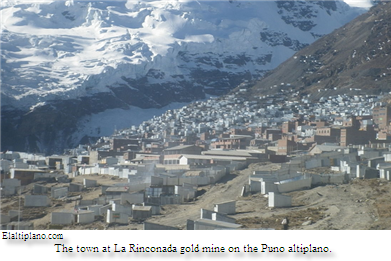 Authorities in the southern Andean region of Puno have recovered the body of a fifth miner killed over the weekend by a rockslide.
Newspaper Peru.21 said the victim was 15 years old and had been working in order to help pay for his studies. At least four other people died in the accident, ranging in age from 28 to 35 years old. Initial reports said eight people had been killed.
The incident occurred at the informal mining site known as Lunar de Oro, or Mole of Gold, in the district of La Rinconada.
La Rinconada has become a popular informal mining site, where extremely harsh working and living conditions are the norm, together with child labor and prostitution. Violent fights among competing miners frequently end in death.
Located about 5,100 meters above sea level, close to 17,000 feet, La Rinconada is also reportedly the highest town in the world.
The town has no sewage, running water or paved roads. Some 50,000 people live in the cold, difficult environment, mainly dedicated to extracting gold from the local mines.
The Lunar de Oro mine is located some 5,400 meters above sea level.