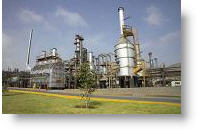 Peru's Economy and Finance Minister Luis Miguel Castilla said that the government is evaluating a possible acquisition of Repsol's assets in the country, although no decision has been made yet.
Castilla said the government is carrying out a cost-benefit analysis of purchasing Repsol's La Pampilla refinery and its gasoline stations. A possible purchase would be made through Peru's state oil company Petroperu, which is being a legal boost to become more active (Petroperu was downsized to a minimum during across-the-board privatizations in President Fujimori's administration, leaving Perupetro to become the state entity in charge of signing concessions to private investment).
"No decision has been made and it won't be made in the short term," Castilla said in comments reported by state news agency Andina. "An evaluation is being made, which hasn't concluded yet, and that will take into account the costs and benefits of this and any other investment that Petroperu will make in the future."
"A technical and rigorous analysis will be done," he added.
Local and international media have been reporting in recent weeks that Peru's government is interested in buying Repsol's refinery and its gasoline stations. This week, President Ollanta Humala held a closed-door meeting with Repsol's chairman, Antonio Brufau. The meeting has largely been seen as the start of negotiations for the purchase of Repsol's assets.
The possible purchase has come under fire from the private sector and opposition politicians who argue that the public's money could be used in better ways, while also raising concerns that Peru's government could be looking to take a bigger role in the economy instead of promoting private-sector investment.
President Humala initially ran on a campaign to increase the state's involvement in the economy, but he backed away from that in order to gain votes from the political centrists. His administration has been a strong supporter of private-sector investment since he took office in 2011.
Government officials have denied that the interest in Repsol's assets represents a change in its economic policy.
"There has been a lot of speculation about the possibility that we are moving towards another type of policy, but I ask for calmness and I want to emphatically reiterate that we are committed to the country growing through investments, and particularly private investment," Castilla said.