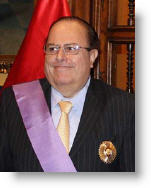 Peru's government awarded the Order of the Sun to Central Bank President Julio Velarde on Wednesday.
The Order of the Sun is the government's highest accolade and is awarded to national and foreign individuals with achievements in various fields, including the arts and politics.
Velarde, an economist with a doctorate from Brown University, received the award in recognition of his leadership in managing Peru's monetary policy. Peru has had one of the lowest rates of inflation in Latin America over the past several years.  Velarde has served as president of the Central Reserve Bank of Peru during the García administration and has been ratified in the position by incoming President Ollanta Humala. 
The award was presented by Foreign Affairs minister Jose Antonio Garcia Belaunde, a day before President Alan Garcia stepped down for his successor, Ollanta Humala, a 49-year-old leftist former army officer.
The business community has been wary of Humala, who has said he will increase the state's role in the economy, in an effort to secure greater social inclusion and lower Peru's poverty rate.
In order to win the election, Humala said he would govern from the center and maintain an attractive economic environment for foreign and national investors.
One of his first clear signs that he will meet his campaign promise was his reappointment of Velarde, who is widely liked by the business community.
He also named Luis Miguel Castilla as minister of Economy and Finance. Castilla, a Johns Hopkins graduate, was until recently Garcia's deputy finance minister.