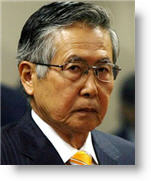 Jailed ex-President Alberto Fujimori's family said Friday that a request to pardon Fujimori will be sent to President Ollanta Humala in the next few days.
Former Congresswoman and presidential candidate Keiko Fujimori, the formerPresident's daughter, said the decision was made because of her father's poor health. The 74-year-oldFujimori has received numerous treatments for a tumorous growth in his mouth that doctors at the INEN cancer hospital have earlier found to be benign.
"The final decision (to ask for the pardon) was made by my father," she told journalists Friday. "We [his children] were always interested in asking for it."
Alberto Fujimori is serving a 25-year-sentence for human rights abuses,specifically in 1991 and 1992 — for authorizing the Colina death squad killings in the Barrios Altos (15 dead in a family courtyard) and La Cantuta (a university professor and nine students murdered), as well as the kidnapping of businessman Samuel Dyer and journalist Gustavo Gorriti, who were held in the basement of the headquarters of the joint chiefs of staff  during Fujimori's self-coup in 1992.
In a recent review of the Colina Group sentences, the Supreme Court led by Justice Javier Villa Stein ruled that the paramilitary squad had not committed "crimes against humanity" because they were combatting terrorists.  The ruling is being overturned following a ruling from the Inter-American Court of Human Rights, but it was seen by legal critics and human rights activities as an initial step towards seeking Alberto Fujimori's release.
In 2009 Fujimori pleaded not guilty to the human rights crimes, but in a subsequent trial the same year did plead guilty to corruption charges, for which he was sentenced to seven years imprisonment; and in third trial he was sentenced to six years on charges of forceful entry into Montesinos' wife's house, from which he had suitcases of video tapes taken. Under Peruvian law, however, sentence time is not accumulated and only the longest sentence is served.
Fujimori was President from 1990 to 2000. Three months after winning a third and questionable election, he fled to Japan where he faxed in his resignation letter as widespread corruption was revealed and began to unravel his administration. Years later, after traveling to Chile in the hopes of re-entering Peru for a fourth presidential campaign, he was arrested and extradited to Peru to face charges on human rights abuses and corruption. The trials met all due process standards and were commended internationally for impeccable procedures.
His daughter Keiko's presidential campaign in 2011 was primarily based on obtaining  his release from prison, and lost by a narrow margin to Ollanta Humala.
In August this year, it appeared that Fujimori had given up seeking a pardon, his son, Congressman Kenji Fujimori, said at the time. However, in a letter published by local media on Friday, the elder Fujimori said there was a "favorable current" for a pardon. "I will continue to fight for my health, my liberty and my innocence," Fujimori said in the letter.
The "favorable current" has been mounting in the local press, and among many politicians who have always seen Fujimori as the person who saved the country from a basket-case economy (under President Garcia's first administration) and growing terrorism, and achieved it by "doing what he had to do." 
President Humala  has been asked frequently if he would be willing to grant a pardon, and on Friday appeared to be less negative than in earlier statements. He said that he doesn't understand quite what the Fujimori family wants, since as President he cannot consider granting a pardon that has not been asked for by the interested party.  He also said that Peru must comply with the standards of the international court (of human rights, based in Costa Rica) in all cases, unless it were to opt out from the international system, a suggestion that has been made frequently by Fujimori supporters, now and during the Fujimori administration. 
President Humala also said that he hoped that "this is not an issue of political calculations" and that "what is at play is the question of someone's life and not a job application," implying that Fujimori would not be expected to re-enter the political arena.
Criticism against the pardon has been swift by human rights activists and some opposition politicians, particularly those on the political left.
Former anti-corruption prosecutor and human rights lawyer Ronald Gamarra said he doesn't believe Fujimori could qualify, because human rights violators cannot receive a pardon.
"No one is above the international agreements, the Constitution and the law," he said.
Although the president of the Judiciary, Justice Cesar San Martín, said he would not be an obstacle to a pardon, the president of the Inter-American Court of Human Rights, Diego García Sayan, said that any consideration would have to undergo a rigorous medical and judicial review. 
In the previous administration, President Alan Garcia granted pardon to Jose Enrique Crousillat, the former owner of Channel 4 TV serving a sentence for corruption, on the grounds of live-threatening health issues, but Crousillat was soon found lounging at his beach house with friends and was forced to return to prison.
Avelino Guillen, who was the chief prosecutor in the Fujimori trial for human rights crimes, said a pardon should not be considered before Alberto Fujimori first asked forgiveness for his crimes from the victims' families, and paid the fines and civil reparations ordered by the court. 
"He was convicted for seven crimes and has not paid one sol of the civil reparation. He has to make these payments, which amount to 27 million soles, and must ask forgiveness for the crimes he committed," Guillen said.