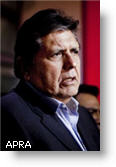 Former President Alan Garcia said that he is not thinking of running for Peru's top office again in 2016, but he will do it "if it is necessary for the country," daily El Comercio reported.
Garcia made the comments during a television interview in Chile, according to El Comercio. During an interview with CNN Chile, Garcia was asked if he was thinking of running for office in Peru's next presidential election. He answered: "Frankly no. But if it were necessary for the country and not for me, I could never turn it down."
Garcia's first term as President was in 1985 to 1990. The administration ended being one of the most disastrous in Peru's history. By the end of his term, Garcia had alienated the World Bank and IMF and attempted to nationalize the domestic banking system, the country's bloody conflict with leftist rebels had spread,  corruption was rife, and the economy suffered from hyperinflation.
Garcia returned to government for a second term in 2006, which lasted until 2011. During his second administration, Garcia policies were an about-face from his previous term, and he  promoted private sector investments and free trade. While Peru enjoyed political stability and strong economic growth, Garcia's term still saw numerous corruption scandals and violent protests often against natural resource projects that resulted in dozens of deaths.
Many analysts believe that Garcia will run again for office in 2016 and he could be a leading contender for the presidency. The Apra party and Garcia's support for the recall of Lima mayor Susana Villaran, and their criticism of the popular First Lady Nadine Heredia, are seen as tactics to remove potential contenders from the field. 
Garcia has an uphill climb, however, with the findings of the Congressional commission investigating allegations of corruption during his most recent administration. He has managed to elude being linked to many cases involving some of his cabinet ministers, but a recent investigation into presidential pardons —which included some 400 pardons to prisoners convicted for drug trafficking— leads directly to his desk.