Peru's President Alan Garcia and his counterparts from Chile, Colombia and Mexico signed the Declaration of Lima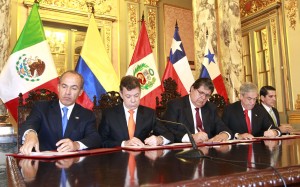 on Thursday, which is aimed at deepening ties between the four countries.
The main points of the declaration include establishing a Pacific Alliance to promote regional integration through stronger economic growth, development and better competitiveness, state news agency Andina reported.
The leaders – Sebastián Piñera of Chile, Juan Manuel Santos of Colombia and Mexico's Felipe Calderon, with President Garcia – agreed to advance towards the objective of creating a free trade area in the four countries.  The alliance is seen as a more attractive market than the the Andean Community, to which Colombia and Peru belong, and Mercosur.
The first stage of the initiative will focus on an easier flow of business and greater migration facilities, including police cooperation. The declaration also calls for the presentation of an accord to the Presidents by December that would build on the bilateral free trade deals already in place.
The presidents of the four countries will meet in Mexico in December to evaluate the progress of the integration.
"We are going to consolidate a new form of integration, open to incorporate later on all of the countries that look out to the Pacific, in order to compete strongly with the most powerful economies in the world," said Calderon of Mexico.
Calderon, as well as Piñera and Santos, also met on Thursday with presidential candidate Ollanta Humala, and with Keiko Fujimori.
Humala is currently leading the second part of the campaign for Peru's highest public office against opponent Fujimori, according to recent opinion polls. The second round vote is on June 5 and the new president will take office on July 28.
"What we are starting here, even though we won't be here in the government going forward, will mean a decisive step forward for the true integration that we have all dreamed of," said President Garcia. "It is a decisive and historic step."