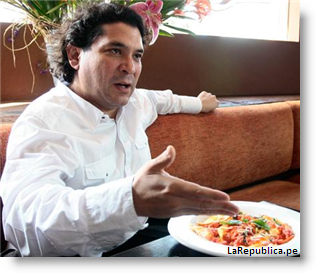 Celebrity chef Gaston Acurio has apparently re-opened the door to a possible run for Peru's highest elected office, according to local media reports.
In an interview with Spanish newspaper El Pais, Gaston was reported saying that if he ran for office one day it would be in part due to the influence of his father, a prominent senator and cabinet minister during the administration of President Fernando Belaunde Terry (1963-1968).
"I've never said a definitive no to anything," said Gaston, who is popularly known by his first name.
Rumors that Gaston would run for president in 2016 as an outsider candidate emerged earlier this year, but the chef and business owner said at the time it wasn't in his plans.
Despite not having any traditional political experience, Gaston, who studied law to please his father before dropping out in favor of cooking school, could be a potential challenge to traditional politicians like ex-President Alan Garcia and opposition politician Keiko Fujimori.
In a survey by polling firm Ipsos Peru last year, 23 percent of those interviewed said they would vote for Gaston in 2016. More than 80 percent of the respondents said that they know of Gaston.
Cook, author and entrepreneur, Gaston, 47,  was named Entrepreneur of the Year in 2005 by America Economia magazine, and has opened 34 Peruvian food restaurants in 11 countries since the first restaurant, Astrid & Gaston, in 1994.
One of his key successes has been the founding in 2007 of the non-profit Peruvian Gastronomy Society, Apega, which launched the Pachacutec Foundation that same year to provide a top-rate cooking school for less privileged students.  And in 2009, he launched the now iconic food fair Mistura, an annual 10-day extravaganza of Peruvian products and foods that make social and entrepreneurial inclusion its main focus.
That same year, in an interview with El Mercurio in Chile, he said that he was involved in gastronomic politics, "as an instrument for social and economic development." He also said he believed that in Peru it was a moral obligation to be left-wing, "not as a State control to take from the rich and give to the poor, but as a series of State actions to give tools to the least privileged so that they can create their own wealth."
Early this year, former President Alan Garcia mockingly challenged Gaston to run in 2016, but Juan Sheput, a member of former President Alejandro Toledo's Peru Posible party, criticized a possible Gaston candidacy.
"Peru is more than a good dish of food," he said. "And in these moments we require a much more extensive menu."