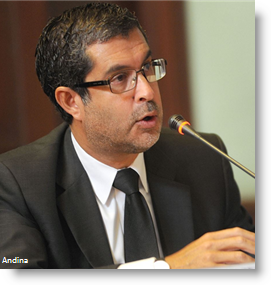 A corruption scandal that has roiled soccer's governing body, FIFA, will likely have repercussions in Peru, according to the superintendent of the country's Financial Intelligence Unit, Sergio Espinosa.
This week, US Attorney General Loretta Lynch announced charges against 14 current and former executives from the top soccer organization, known as the International Federation of Association Football, for allegedly taking kickbacks worth US$150 million over some two decades.
Most of those soccer executives, accused of running one of the biggest corruption rings in modern sports history, are from Latin America and the Caribbean. So far, the allegations have already sparked investigations into corruption of soccer federations and marketing companies in Brazil and Argentina, two of the world's top soccer countries.
In Peru, allegations of wrongdoing and corruption have long tarnished the country's soccer federation, and its longtime, former president Manuel Burga, who decided not to run for reelection last year when he faced a disapproval rating in around 80%.
Espinosa, of Peru's Financial Intelligence Unit, which investigates money laundering and other financial crimes, said the prevalence of wrongdoing in Latin American football means that Peru won't be unscathed in the inquiry.
"I think there is, without a doubt, a relationship with South American and Peruvian soccer," he said, according to state news agency Andina. "A good part of the accusation is in reference to the America Cup and that's why the list of detained are people from the Americas."
"This is the tip of the iceberg and this is going to continue and will have repercussions here," said Espinosa.
Burga has denied receiving bribes while he was the head of Peru's soccer federation, but said he was supportive of his former colleagues who have been indicted by the US, and arrested with the help of Swiss authorities this week.
"I never received anything from anyone," Burga said, according to RPP Noticias. "I express my solidarity with my colleagues who are in this problem… until someone shows me that they aren't innocent. A friend has to be there in the good times and the bad times."
"I'm at ease with my conscience and with a vision for the future of Peruvian football," he added, speaking from Switzerland where global soccer officials met today, May 29, to elect FIFA's president.  Sepp Blatter was reelected to a sixth term, despite growing backlash against his tenure over the corruption allegations.
Those indicted by the US, and arrested with the help of Swiss authorities, include: Rafael Esquivel, the current head of South America's soccer federation, known as Conmebol; Eugenio Figueredo, former president of Conmebol; Jose Maria Marin, former head of Brazil's soccer federation; Jeffrey Webb, the vice president of FIFA and head of CONCACAF, the North and Central America and Caribbean soccer federation; Eduardo Li, the president of Costa Rica's soccer federation; and Julio Rocha, the president of Nicaragua's soccer federation, among others.