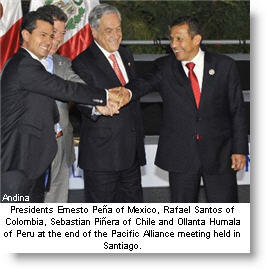 President Ollanta Humala called on Latin American leaders to assume global leadership in environmental policy, state news agency Andina reported.
During a speech at the summit in Chile of Latin American and European leaders, EU-LAC, and of the Pacific Alliance formed by several Latin American nations, Humala urged his regional counterparts to make the environment a priority.
"In Peru, we've assumed our responsibility," he said. "We have an environment ministry and have given the importance of water over gold, we prefer to say that time is worth water and not gold."
Since Humala took office in 2011, he has been criticized by some environmental activists for supporting mining over the environment. One of the biggest environmental disputes his government has faced has been over the development of a multi-billion dollar gold and copper mine, majority-owned by U.S-based Newmont Mining.
Activists say that the mine would harm the local water supply that farmers in the northern region of Cajamarca depend on for their livelihood. However, Humala and his government, as well as industry officials, have argued that they can develop the mine, known as Minas Conga, without hurting water supply. Indeed, they plan to build reservoirs that they say will increase the supply of water to the region.
Last week, premier Juan Jimenez held a meeting with Gregorio Santos, the Cajamarca region president who has led the Conga protests, and this week talks and meetings begin again with 32 communities in Cajamarca after several months. The talks are headed by Monsignor Miguel Cabrejos and Father Gaston Garatea, appointed by the government and the Cajamarca communities, respectively. 
Meanwhile in Chile, Humala also called on Latin American leaders to invest in science and technology, as well as education. "We should reflect on how much we are investing in education, in the training of our people," the Peruvian president said.
Meanwhile, he also said that crime, particularly drug trafficking, is a threat to security and democracy in the region.
Peru is one of the world's biggest producers of cocaine. While Peru has seen its fair share of drug-related violence, it has been far less than in transit countries like Mexico and those in Central America.