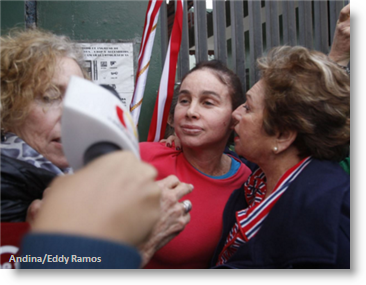 On his last day in office, President Ollanta Humala granted pardon to Silvana Buscaglia, who was imprisoned six months ago, found guilty of physically assaulting a policeman at the Jorge Chavez airport.
Buscaglia, wrongfully parked, was detained and immediately imprisoned under a new flagrante delicto law. A video (below) taken of the incident showed Buscaglia belittling and insulting the policeman, and intentionally knocking off  his helmet when he was reprimanding her for the traffic violation.  Buscaglia was charged with violence and resistance to authority.
The judge in the case was criticized for handing down such a harsh sentence for the crime — six years and eight months. Although the crime committed was serious, several similar incidents after the Buscaglia case have resulted in much lighter sentences.
Legal analysts compared the ruling to the minimum sentence for homicide, which is also six years, and to the wide discrepancy between court decisions — this month a young man charged with assault and battery of his partner in a hotel in Ayacucho last year, has been let off lightly with a suspended sentence of one year imprisonment.
President Humala granted the pardon on the grounds that the sentence was disproportionate to the crime committed, and that Buscaglia has shown a "positive thoughtful attitude" towards her actions.
Buscaglia was released on July 28 from the Virgen de Fatima women's prison in Chorrillos.