Vladimiro Montesinos, spy chief and closest advisor to Alberto Fujimori in the 1990s, has been sentenced to 22 years in prison for the forced disappearance in 1993 of two students and a retired university professor.   Also sentenced to 22 years is the former commander in chief of the armed forces, Gen. Nicolas Hermoza Rios.
Justice Liliana Plascencia ruled that there is sufficient evidence that all three victims were not only killed in the SIE basement cells but that their bodies were most probably incinerated in an oven found in the basement.
During the trial, Montesinos said that the oven was installed for burning papers, but investigations show that the oven can reach 1000ºC, and bodies can burn at 800ºC.  Forensic evidence found in the oven included part of a charred finger bone.
The three-judge court, which held the so-called Basement Case trial in courtrooms at the Naval Base in Callao, also sentenced, to 15 years, the former director of army intelligence, Jorge Nadal, and another intelligence officer, Enrique Oliveros, who was in charge of the visitors' log in the basement of the army intelligence service, SIE, where the three victims were last known to have been.

In July 1993, Justiniano Najarro was taken from his bakery in Lima by two armed men who identified themselves as police. A retired professor from the University of Huamanga in Ayacucho, Najarro and his family had moved to Lima for health reasons and set up a bakery in San Juan de Miraflores.  Twice he had been arrested on charges of terrorism, twice investigations proved he was innocent, but when a neighbor, a retired security agent, was killed Najarro was the immediate suspect because the victim was found holding a bag of bread.  Forensics later proved the bread was from another bakery but by then Najarro had been arrested. Najarro's daughter testified at the public hearing in Lima of the Truth and Reconciliation Commission, CVR, in 2002.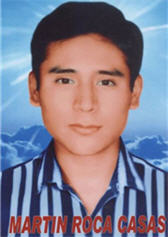 In an unrelated incident in August that same year, university student Martin Roca was in a student protest march when he saw two men filming the march. He and other students from the University of Callao snatched the camera and removed the film tape. The men left but marine infantry personnel arrived at Martin's home late at night to search the house and torture him, and then posted guards outside for several weeks, ruining his mother's lunch business in the process since neighbors and patrons were afraid to be seen there.  Roca's mother testified to the CVR that Roca left his house on Oct. 5 to go to university and was never seen again.
Kenneth Anzualdo, a friend and fellow student of Martin Roca, had joined Martin Roca's family to file claims with the police and government authorities on Martin's disappearance, including with the human rights association Aprodeh.  In December, as he traveled home by bus from the university, military personnel intercepted the bus and took him off. He was also not seen again.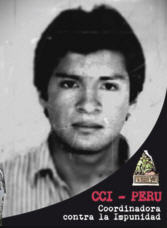 Anzualdo's efforts to defend his friend and seek justice were recognized by local and international human rights organizations, and a memorial plaque was unveiled at the LUM museum in Miraflores earlier this year by the People's Ombudsman, Eduardo Vega.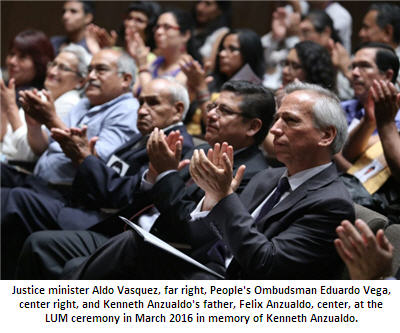 The trial began in late 2012 after years of investigations by the family and human rights groups and the Inter-American Court of Human Rights ruled that Peru was required to carry out a proper investigation into the incidents.
Justice Plascencia said at the sentencing that Montesinos, in his role as de facto chief of the National Intelligence Service, SIN, and advisor to President Fujimori, planned and directed a policy to fight subversion through the illegal detention and questioning of suspects.  As part of this policy, clandestine cells were set up in the SIE facilities as well as an oven to incinerate the bodies of those arrested who did not survive torture or who they decided should be eliminated.  As proof of the existence of this clandestine prison, the court presented three official Army documents that were impounded in 2002 during investigations of former President Alberto Fujimori.
Montesinos is already serving a 25-year sentence at the Naval Base facilities, while Hermoza is serving 20 years, both for the Barrios Altos and La Cantuta killings.  Sentences are not cumulative under Peruvian law.