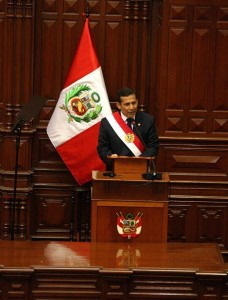 Ollanta Humala was sworn in as Peru's president on Thursday during a ceremony at Congress that included presidents from almost all South and Central America, the Prince of Asturias, and foreign dignataries.
The 49-year-old left-leaning former army officer takes office for a five-year term with pledges to maintain Peru's strong economic growth while improving social inclusion.
During his oath of office, Humala pledged to the principles and values of the Constitution of 1979, which drew shouts from opposition lawmakers loyal to jailed ex-President Alberto Fujimori.  Congresswoman Martha Chavez proceeded to shout during Humala's entire speech or to sit with her back to him.
Humala has been a critic of Peru's current Constitution of 1993, which was enacted by Fujimori after he dissolved Congress in the "auto-coup" a year earlier. Although it opened the door to major changes in private investment that have led to Peru's current economic boom, it also restricts the role of government in areas that are not being filled or served by the private sector.
"The constitution of 1979, the last constitution of democratic origin, which many have not respected and that's why it has been forgotten, is for me a true inspiration for its national and democratic content," Humala said.
In the social area, Humala said he would increase the coverage of the pension system and raise spending on education and health.
In addition, Humala said he would increase the minimum wage by 25% and implement a windfall tax on mining companies.
The declarations were largely expected and did not include any major surprises, according to investment firm Celfin Capital.
"The speech in fact provided no surprises, and was in line with the statements that his ministers have been making in the press – on subjects such as cheap gas, royalties, the creation of a domestic airline, pensions, and most importantly, social empowerment and eradication of social exclusion," said Celfin's managing director, Cesar Perez-Novoa.
The fact that Humala's speech did not contain any radical changes from his discourse leading up to the inauguration should be seen as positive for the markets, according to Perez-Novoa.
Humala's cabinet chief is political advisor and businessman Salomon Lerner.