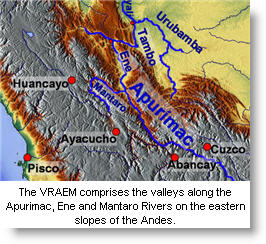 Peru's government announced Tuesday that it is to invest 2.8 billion soles ($1.07 billion) in the country's top coca growing region.
The region, which covers the valleys of the Apurimac, Ene and Mantaro Rivers, referred to strategically as the VRAEM, is home to a splinter group of the Shining Path rebels. It straddles areas of north Cusco as well as Ayacucho and Apurimac in southeast Peru and Junin in the central Andes.  The Shining Path remnants are heavily involved in the drug trade through the cultivation of coca and the trafficking of cocaine. They regularly attack Peruvian police and military officers, resulting in numerous deaths.
The head of Peru's Armed Forces, Admiral Jose Cueto, said recently that the state was at "war" in the VRAEM.
In the region, President Ollanta Humala has promised to increase the state's presence, capture the rebels, and reduce coca production.
Cabinet Chief Juan Jimenez said Tuesday that 1.78 billion soles will be spent on public works, such as roads and improving public services such as schools and medical posts. Just in educational infrastructure, the government is to invest 127 million soles, he said, according to state news agency Andina.
"To have an idea of the government's focus on this area of the country, the public budget in 2011 reached 1.11 billion soles and the budget for this year is 2.8 billion," Jimenez said. "That is to say, we have more than doubled the budget for the area."
In announcing the increase in the budget, Jimenez said the government was installing a commission, Codevraem, that is to oversee the effort to increase the state's presence in the VRAEM.
Codevraem will focus on four areas: poverty reduction, drug trafficking, terrorism and inequality, he said. Approximately 500,000 people live in the VRAEM.