Peru and Chile continue to trade barbs over ownership of a sliver of land that has been under dispute since earlier this year when an international court set a new maritime border.
On Saturday, former Chilean President Sebastian Piñera said that 3.7 hectares of land is Chilean.
"There are different visions, but I, as a Chilean, am convinced that in relation to the Treaty of 29 and the accords from 1930, this triangle belongs to Chile," Piñera said in an interview with Lima's RPP Noticias.
Piñera was President of Chile when the International Court of Justice at The Hague ruled in January this year on a long-time border dispute between Peru and Chile over maritime territory of fishing-rich waters off their Pacific coast.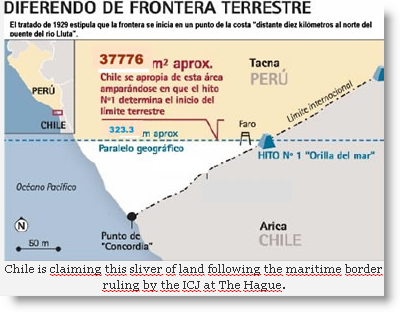 The area under dispute included some 38,000 square kilometers of fishing-rich waters that Chile had controlled prior to the ruling. Another 28,000 square kilometers of ocean was also under dispute. Peru had claimed that area, while Chile had argued that it should stay under international jurisdiction.
The judgment gave Peru the right over almost 50,000 square kilometers, which is over 70 percent of the area that was at stake.
An unintended dispute that arose from the ICJ's decision was over the ownership of the small, triangular piece of land on the border. Chilean officials argue that that triangle of land is now Chilean, based on the fact that the ICJ ruling on the maritime border begins at the 1st landmark, inland,  and not at Punto Concordia, on the coast further south, which was established as the land frontier line between both countries in the treaty signed in 1929.
Peruvian officials beg to differ, which President Ollanta Humala made clear again on Monday in response to Piñera's comments.
"The Peruvian position is clear and coherent with the Treaty of 1920," Humala said, according to daily Peru.21. "The triangle is Peruvian territory and we are going to do everything necessary to apply all of the mechanisms that we have to defend this thesis."