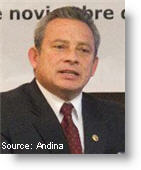 Peru's new anti-drug plan will involve reducing the number of hectares used to grow coca leaves by 20 percent to 48,000 hectares, a government official said Monday.
The five-year plan was created by Peru's anti-drug agency Devida and submitted to President Ollanta Humala's cabinet for approval.
Ricardo Soberon, the head of Devida, announced the plan at a drug intelligence seminar being held in Lima this week, attended by specialists from the United States, France, United Kingdom, Colombia, Mexico and Guatemala.
The key speaker at the seminar, Soberon said the first three years of the plan involve halting a trend that has seen a six percent annual increase in territory used to grow coca. Then by 2015 and 2016, the government hopes to see a 10 percent annual decrease in the resulting area used for coca.
"It seems to us a reasonable figure," state news agency Andina reported Soberon as saying. 
"After 30 years of failures, we need a policy that is guaranteed to be effective between the little resources assigned and the magnitude of the problem," he said, arguing that previous administrations had not broached the structural problems of the illegal drug trade.
According to the U.S. government, Peru overtook Colombia this year as the world's top producer of cocaine. Almost all of the world's cocaine is produced in Peru, Colombia and Bolivia.   Last week, the Foreign Affairs Ministry and Devida finished drawing up a plan for an accord with Colombia to monitor the Peru-Colombia border on drug production and trafficking.
Peru's top coca growing areas are the Apurimac and Ene river valleys, or VRAE, and the Upper Huallaga Valley.
Soberon rejected figures published in local media that Peru's jungle region of Loreto has become the country's top coca growing area, with some 40,000 hectares used to grow the crop. He said there was no scientific basis for the figures.
"All of the reports from the United Nations and other countries show that in the Peruvian Amazon and particularly in Loreto, there are no more than 3,000 hectares," he said.