Peru's Housing Minister Rene Cornejo said Thursday that the government is ready to invest heavily in the northern region of Cajamarca in order to cover social demands, state news agency Andina reported.
Cajamarca has been the site of intense social conflicts over the development of the large-scale Minas Conga gold project, majority-owned by Newmont Mining.
One the one hand, the government and company want to push the project ahead, saying that it will be important to economic and social development in Cajamarca. On the other hand, critics led by the regional president Gregorio Santos have demanded that Minas Conga be cancelled definitively due to concerns over its potential impact on the regional water supply.  After two months of strikes and protests, however, local support has begun to wane as trade and the tourism industry are affected.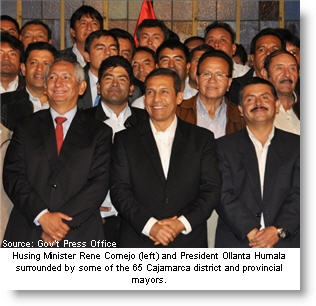 Cornejo's comments followed a meeting held by President Ollanta Humala with 65 provincial and district mayors from Cajamarca at the Government Palace in Lima.
With this meeting and the negotiations prior to it, the government has effectively bypassed the regional government and gone directly to the towns and villages to seek support for its policy to give the go-ahead to Minas Conga project and ensure the region benefits financially through the development. 
During the meeting, officials signed 30 agreements for development projects worth some 67 million soles ($25.2 million). These agreements are in addition to the 102 accords that the government has already signed to improve sewage and construction of roads in the region.
Investment in Cajamarca totals some 5 billion soles, with 3.2 billion soles aimed for works on highways.