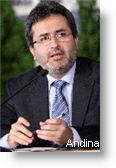 Peruvian Premier Juan Jimenez said the government will not seek to change a law in order to allow First Lady Nadine Heredia to run for president in 2016.
"The government isn't going to change the electoral law to propose the candidacy of Ms. Heredia," Jimenez said, in comments reported by daily El Comercio.
Jimenez also ruled out that the government would seek to change the Constitution in order to allow President Ollanta Humala to run for re-election in 2016.
Presidents in Peru are constitutionally barred from seeking consecutive terms in office.
There has been widespread speculation among politicians and the press that Heredia will seek office in 2016, despite the fact that the first lady and the president have denied that.   Jimenez said the speculation comes from the opposition, who dislike the success of Humala's administration and the fact that Humala and Heredia connect easily with the public.
Heredia is widely popular in Peru, and would be a strong candidate in a field that may include former presidents Alan Garcia and Alejandro Toledo.