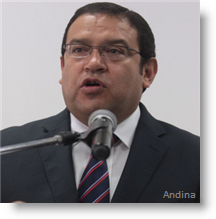 Peru's government on Wednesday replaced its top anti-drug chief, raising uncertainty about anti-drug policies in the world's biggest cocaine producer.
Carmen Masias was removed as the head of the government's anti-drug agency Devida, and was replaced by former Defense minister Alberto Otarola. Otarola will become the third anti-drug chief since President Ollanta Humala took office in July 2011.
Masias said that she was forced out of office, adding that the way it was handled made her "mistreated" by President Humala's administration.
Masias, a well-regarded expert on preventing drug abuse, had pushed to start eradication of coca leaves in Peru's remote and rugged VRAEM region. The VRAEM, which is the strategic name for the area encompassing the Valleys of the Apurimac, Ene and Mantaro Rivers, is Peru's top coca growing region and home to a splinter group of the Shining Path rebels.
However, Masias denies that she had any disagreements with the new Agriculture minister, Juan Manuel Benites, who has opened negotiations with coca growers in the VRAEM region and agreed to give more importance to crop substitution than to coca eradication.
"I have never been against the negotiating table. On the contrary, when the Minister of Agriculture was appointed, the first thing I did was to visit him and give him a series of proven instruments, and proposed that he use whatever had given us results," Masias told Radio RPP.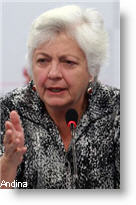 Masias was appointed to head the Devida office in January 2012, replacing Ricardo Soberon, who was fired after less than six months due to his focus on alternative crop development and non-eradication, which clashed with the Peruvian military and police focus and the U.S. Drug Enforcement Administration.   During Masias' close to two and a half years heading Devida, the coca eradication rose from the tepid 10,000 hectares per year during the Garcia administration to some 14,000 ha and to a record 24,000 hectares by the end of 2013.
Fernando Rospigliosi, a former Interior minister and critic of Humala's administration, said the removal of Masias was a step back in Peru's anti-drug work.
Rospigliosi said the appointment of Otarola was a sign that Devida would essentially do whatever military chiefs in the VRAEM wanted.
"It is going from bad to worse," he said in comments to daily Peru.21. "Camen Masias did a good job. They removed her without justification to put in a person who will do what the military wants."
In a press conference late yesterday, the new Devida chief said the governments strategy against illegal drug trafficking could be summed up as "interdiction with reconversion of production."
"This model will be taken to the Apurimac, Ene and Mantaro river valleys and consists in work and investment to convert 5,000 hectares, with a budget of 150 million soles that has already been transferred to the Agriculture ministry," Otarola said.
Otarola, who Deputy Defense Minister in the Toledo administration (2003) and Defense minister under President Humala in 2012, said he takes on the Devida post because of his work as "an executive" and added that the declared war against drug trafficking "is explicit."