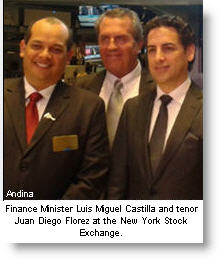 Peruvian political and business leaders kicked off a three-city tour in the United States on Monday, aimed at attracting investments to the Andean nation.
The roadshow is being led by Finance Minister Luis Miguel Castilla and Trade and Tourism Minister Jose Luis Silva. Central Bank Governor Julio Velarde and the head of Peru's securities and exchange commission, Daniel Schydlowsky, are also part of the delegation.
Peru's private sector is being represented by inPeru, an association founded last year by leading industries and business and investment associations to create maximum international exposure.  Leading the private business executives on this roadshow are Roque Benavides, the CEO of mining company Buenaventura, and Roberto Hoyle, the president of the Lima Stock Exchange.
The roadshow includes a stop Monday in New York, followed by trips to Chicago and San Francisco. The trip follows similar roadshows to Europe and Asia last year.
"After being at the exchanges in Hong Kong and London, it is very important to place our homeland's colors at one of the most important exchanges in the world, like the New York Stock Exchange," state news agency Andina reported Hoyle as saying.
InPeru aims to attract some 600 investors interested in Peru.
The Andean country has seen a strong inflow of foreign direct investments during the past decade, thanks to political stability and robust economic growth that has led to an expanding middle class.