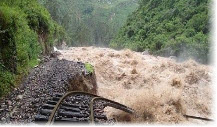 President Alan García called for public calm on Friday after flying over areas devastated by torrential rains, mudslides and floods in Peru's southern Cusco department. García said the government will guarantee the reconstruction of the regions infrastructure and relief aid for some 25,000 people left homeless by the floods, daily El Comercio reported.
"The government is going to guarantee what is necessary to re-establish highways, railways and, in second place, electrical connections, which have been damaged in various places and can be re-established," said García. He said the reconstruction could be done in less than two months.
"There will be a lot of work. I am sure the rain will stop and we will have all of the levels of government, including municipalities, providing all of their support to provide tranquility to the population and the world who see Cusco and Machu Picchu as a cultural and tourist option."
Peru's government announced a 60-day state of emergency in the Cusco department on Monday as heavy rainfalls and mudslides battered the country's southern Andean region. The storms flooded the Vilcanota river, which blocked the railway between Cusco and Machu Picchu, Peru's sacred Inca citadel and top tourist attraction.
British-owned Perurail suspended services to Machu Picchu Pueblo – the town below the citadel – stranding some 2,000 tourists. Peru's government sent police and military helicopters to evacuate tourists and local residents.
Cusco's regional president, Hugo Gonzales, estimates the damage in his department caused by the flooding will cost 800 million to 1 billion soles, about $280 million to $340 million, to repair. A preliminary report prepared by the Gonzales administration and sent to Presidential Cabinet Chief Javier Velásquez says flooding destroyed 4,000 homes, devastated 14,000 hectares of agricultural land, swept away 14 bridges and damaged numerous highways, daily El Comercio reported.
Agriculture Minister Adolfo de Córdova told El Comercio most of the agricultural land flooded in Cusco is insured. Farmers with insurance who lost their crops, says de Córdova, will receive 500 soles, about $175, per hectare.
The latest figures by the National Institute for Civil Defense, or Indeci, says 23,445 people have been reportedly left homeless and 37,375 people have lost part of their property. Indeci has provided 120 tonnes of humanitarian aid.
Flooding in Cusco is also having a large impact on Peru's tourism revenue. The president of the Peruvian Association of Travel Agencies and Tourism, Publio Santander, says the country's tourism industry is losing a million dollars a day due to travel cancellations.
"The average cost of a package in Cusco (hotel, transportation, food, etc.) is $600. Add on expenses in Lima, Puno and Nazca, and the total is $1,000," said Santander. "If you multiply that by the 1,000 tourists that arrive (per day), you have loses of more than a million dollars per day."
Tourism is one of Peru's largest sources of revenue, and Machu Picchu is the main attraction. According to the Ministry of Foreign Trade and Tourism, the 15th century Inca citadel attracted more than 850,000 tourists in 2008.