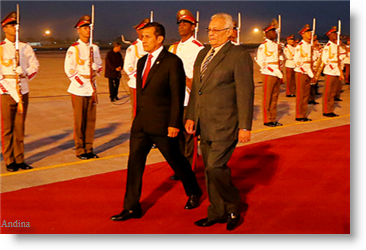 President Ollanta Humala arrived in Havana last night, to attend the Summit of the Community of Latin American and Caribbean Nations, CELAC, being hosted by Cuba.
Humala is expected to get together sometime during the summit with Chile's President Sebastian Piñera and President-elect Michel Bachelet, following the ruling on Monday by The Hague on the maritime border.
President Piñera is president of this summit, a task he shares with the Presidents of Venezuela and Cuba.
Attending the summit are the leaders of 31 of the 33 nations invited, a diplomatic coup for Cuba as it returns to regional integration —the attendance is in sharp contrast to the Ibero-American Summit in Panama in October last year, when only 12 of 22 member leaders attended.
President Mauricio Funes of El Salvador declined Cuba's invitation as his country faces presidential elections this weekend, while President Ricardo Martinelli of Panama turned down the invitation in protest against the capture last year of a North Korean ship in the Panama Canal that was carrying Cuban weapons, contravening a UN arms embargo.
The United States and Canada are not members of CELAC.
Cuba's diplomatic success has been complete with the arrival of Jose Miguel Insulza, the first Secretary General of the Organization of American States, OAS, to visit Cuba, and of UN Secretary General Ban Ki-moon, who met with Raul Castro early Tuesday to discuss embargo and human rights issues.
The theme of the Summit is the fight against hunger, poverty and inequality. Raul Castro opened the meeting with a dedication to "our America", thanked the solidarity shown towards Cuba against the "criminal blockade" and warned of the dangers threatening peace in the region.
Little if any mention has been made so far of Cuba's own political issues, although the Costa Rican delegation has met with the Cuban human rights organization.
CELAC was initiated by Venezuela's late President Hugo Chavez as a gesture against the Organization of American States, OAS, which Chavez said was dictated by Washington. However, as Costa Rica's President  Laura Chinchilla pointed out to El Pais, "Each hemispheric body — whether it is a dialogue group or an institution like the OAS — has its own dynamics, its own priorities," and CELAC should not be seen as a replacement for the OAS.