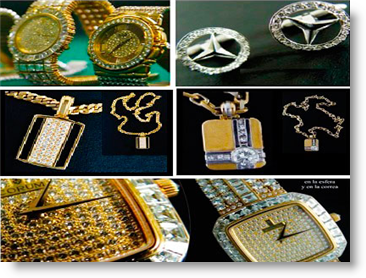 Peru's government is to auction off over 150 pieces of jewelry, including expensive watches, once owned by jailed ex-spy chief Vladimiro Montesinos.
The National Institute for Seized Goods, Conabi, said it would hold the auction on August 18 and August 19, daily Peru.21 reported.
The government hopes to raise over $1 million in the auction, which it will use to combat corruption and organized crime.
The 152 items include dozens of sets of diamond and gold cufflinks, gold chains, and 39 gold watches, some of which were made specifically for Montesinos. The most luxurious pieces include Patek Philippe, Longines, Piaget and Rolex Cellini watches, and one Corum watch with more than 300 diamonds that is valued at $160,000.
Besides the jewelry, there are also a number of lots that include gifts made to Montesinos over the years, most with more intrinsic value as memorabilia than any real market value, many of them birthday and occasion gifts made by the armed forces.
Bidders are required to register with Conabi by August 7, and can download the registration details and a detailed list of the jewelry on the Conabi website. Approved bidders will be able to view the goods on August 4 and 7.
Montesinos was the chief of Peru's intelligence unit and the right-hand man of ex-president Alberto Fujimori, who ruled Peru from 1990 to 2000.  Both men are serving long prison sentences on corruption charges and human rights abuses.   Montesinos' jewelry and other assets were impounded in 2000, and held in the Banco de la Nacion vaults when handed over to Conabi in 2013.