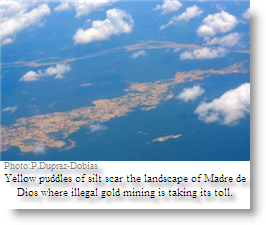 The annual rate of deforestation in Peru's biodiverse Madre de Dios region has tripled over the past five years, according to a study in the Proceedings of the National Academy of Sciences, which was cited by local media.
The main reason for the deforestation has been illegal gold mining (see the PT Special Report by Paula Dupraz-Dobias, On the Ground in the Battle Against Prohibited Mining).
According to the study, gold mining caused the deforestation of 2,166 hectares in Madre de Dios in 2008, compared to 6,145 hectares in 2012. The researchers said the rate of deforestation is far higher than previously anticipated.
It said that the geographic extent of illegal gold mining increased 400 percent between 1992 and 2012.
Researchers said their study was possible thanks to field surveys, combined with airborne mapping, and high-resolution satellite imaging.
Illegal gold mining has caused widespread environmental damage in Madre de Dios, one of the most biologically diverse spots on Earth. It has also caused serious health concerns for indigenous people who eat fish poisoned with mercury from the mining, as well as major social and legal issues that include prostitution, human trafficking and corruption, as well as endangering protected national parks and native community lands.
Economists estimate that illegal gold mining in Peru brings in higher profits than the country's large cocaine trade.