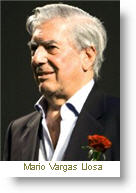 Peruvian writer and Nobel laureate Mario Vargas Llosa is to donate his private library of some 30,000 books to the city of Arequipa, daily El Comercio reported.
Vargas Llosa, the 2010 recipient of the Nobel Prize in Literature, said that the majority of the books are literature and that he has written personal notes in almost all of the books.
Vargas Llosa made the announcement Wednesday in Arequipa, the city where he was born, during celebrations for his 76th birthday.
The city is working on turning the house where Vargas Llosa was born into a museum. The author's books will make up the museum library.
Vargas Llosa said that he hopes the first batch of books will be delivered to Arequipa during his birthday next year, when the museum is expected to be ready.
The books are currently in his different homes in Lima, Madrid and Paris.
Vargas Llosa's own works includes plays, essays, novels that range from historical to detective mysteries, comedy and political thrillers, and also newspaper columns and articles, including the fortnightly Piedra de Toque (Touchstone) in El Pais of Madrid, which is published in Peru in La Republica daily.