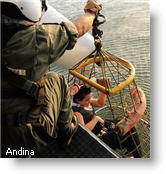 Peruvian authorities have found and rescued five of seven people who were in a hot air balloon that plummeted into the Pacific Ocean south of Lima, Interior Minister Wilfredo Pedraza said.
The balloon went down on Sunday close to the Sarapampa beach, located at about KM 107 of the Panamericana Sur highway, daily El Comercio reported.
Five women were found, but the two men who had also been in the balloon —including the pilot—are still missing, Pedraza said. None of those aboard had life jackets.  According to one report, the women survived because they remained in the balloon basket, which floated for some time.
"The women have been transported by air to a navy hospital, we don't know what their current health state is, and regarding the two men, the search continues," Pedraza said.
Luis Miguel Fernandez, the manager of the hot air balloon company, Globos Peru SAC, said the balloon received regular maintenance, and suggested that the cause of the accident was strong winds.
"Our pilot didn't have control of the balloon," he said. "The strong wind took it out to sea."
Fernandez said the company would accept any legal consequences for the incident. "If there is any responsibility, we will accept it as a company," he said.