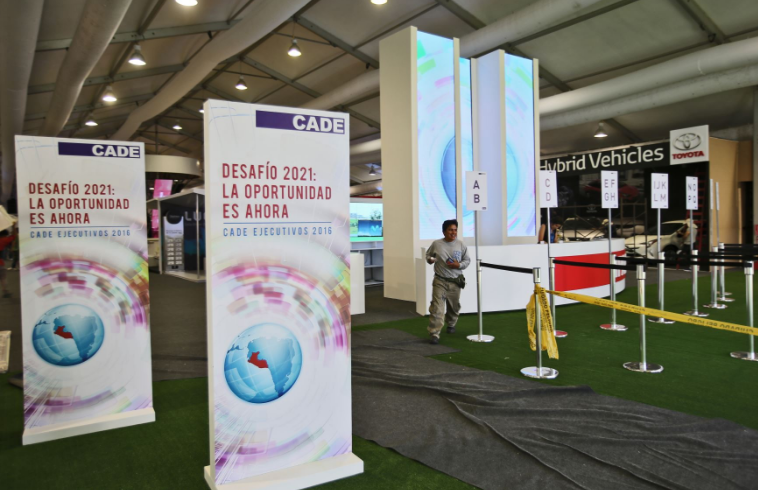 Cabinet chief Fernando Zavala is heading south of Lima today, to the beach resort of Paracas, to inaugurate the annual business executives meeting, CADE 2016.
The meeting brings together several hundred business executives, investors, analysts and political leaders to hear economic and social proposals by both the government and the private sector.   The theme this year is Challenge 2021: The Opportunity is Now, focusing on development results to meet Peru's bicentennial of independence in July 2021.  The focus on development and reactivating the economy covers a broad range of topics, from drug trafficking and corruption to education, health, security, and the potential of cultural industries.
Speakers this year include several captains of industry — including Chile's former president, Sebastian Piñera, Mexico's former president Felipe Calderón, as well as Intercorp president Carlos Rodriguez, and Jose Chlimper, president of Agrokasa and a Central Bank governor as well as secretary general of the Fujimorista Fuerza Popular party.  Other speakers include cabinet ministers, economic analysts, several journalists, and specialists such as Peru's leading innovative educator Leon Trahtemberg, a speaker at many previous CADE meetings, and American educator Salman Khan, founder of the free online education platform Khan Academy.
The president of CADE 2016, Alfredo Torres of the Ipsos Apoyo polling firm, believes that —given the current political climate in Peru— people are becoming impatient and "there is no time for long-term plans."
Now that the new government's honeymoon is over, Torres says, CADE 2016 provides President Kuczynski and his cabinet a second chance to lay out their projects for short-term results.
President Kuczynski will speak on the final day, Dec. 2.